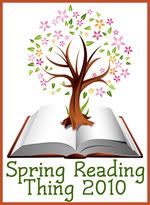 Well today is the first day of summer!  It's felt like summer here for a few weeks.  With the beginning of summer comes the last day of the spring reading thing over at Callapidder Days.  I had a blast reading this spring!  Since its Monday and I'm tired from being up a few time the past few nights with a sick kiddo.. I am going with the simple approach for my wrap of just answering the questions provided!
Did you finish reading all the books on your spring reading list? If not, why not?
*ahem* No, I didn't!  I took some weeks of from reading here and there and I have 3 books left on my list!  I didn't finish The Lucky One (however I started and I'm liking it so far), Barefoot (I haven't even started this one), and The Girl with the Dragon Tattoo (I am finally getting into this book after reading about a quarter of the book).  I am setting a goal of finishing all of these books by this time next month!
Did you stick to your original goals or did you change your list as you went along?
I did stick to my original goals just didn't reach them :-P
What was your favorite book that you read this spring? Least favorite?
My favorite was either Watch Over Me or Keeping Faith.  My least favorite was Have a Little Faith.
Did you discover a new author or genre this spring? Did you love them? Not love them?
I pretty much read the same authors I have read in the past.  Some I loved some I didn't.  I did however read a new author/genre with Watch Over Me and really loved the author and decided to give Christian Fiction another chance.
Did you learn something new because of Spring Reading Thing 2010 — something about reading, or yourself, or a topic you read about?
I love to read however, I seem to read a bunch at one time and then go into a little reading slump.  It doesn't matter if I am in the middle of a good book or not.
What was your favorite thing about the challenge?
I love getting new book recommendations and seeing how everyone did with their lists!
Thanks so much Katrina for hosting this challenge I really had a lot of fun reading and participating this spring!